Your Jersey City Pediatric Dentist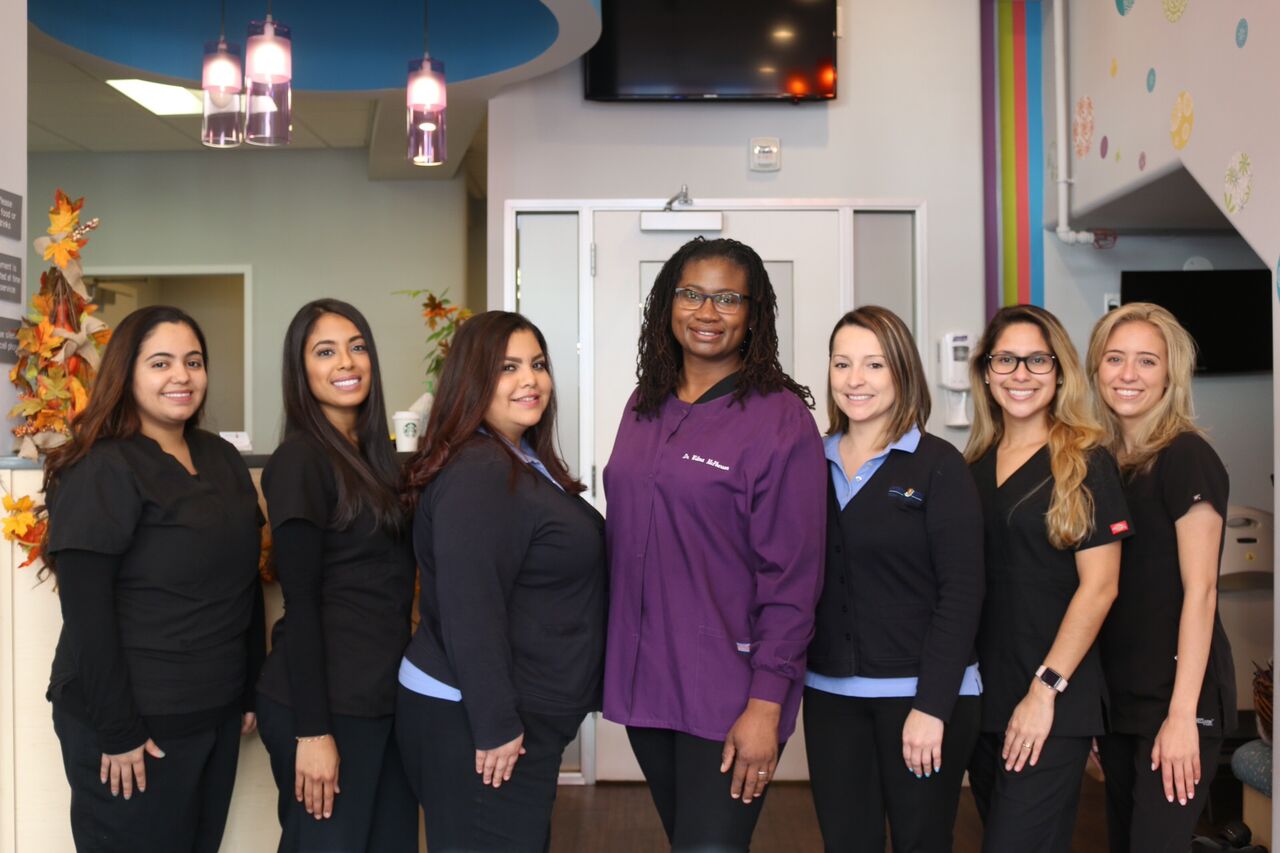 Your Jersey City Pediatric Dentist
Dr. Wilma McPherson – Jersey City Pediatric Dentist
Dr. McPherson loves kids! After receiving her bachelor's degree from Lincoln University and her dental degree from the University of Pittsburgh School of Dental Medicine, Dr. McPherson practiced community dentistry in her hometown of Boston for four years. There, her treatment of children encouraged her to seek additional training to become a pediatric dentist. She went on to complete three years of hospital training, first in general practice and surgery, followed by a two-year residency in pediatric dentistry at Brookdale University Hospital and Medical Center in Brooklyn. In her final year, she was appointed chief resident of the entire dental program. Since 2007, Dr. McPherson has been in private pediatric practice. On November 1, 2014, Dr. McPherson opened Jersey City Pediatric Dentistry.
"As a pediatric dentist who is also a mother, it's important to me that children feel good about their dental visits. When I was a kid, I had a great dental relationship with my pediatric dentist. His professionalism and care inspired me to become a dentist. It is my goal to provide that same positive dental relationship to every child I am fortunate to treat." – Dr. McPherson
Our Team
Our team members are passionate about great service! They consistently surprise us with the level of care and detail they bring to our practice. We are grateful to have them and we know you'll be pleasantly surprised by their efforts as well.
Larissa – Office Manager
Larissa was our first hire and we couldn't be happier with her work! Her upbeat energy and passion for dentistry make her a great asset to the practice. Larissa is fluent in Portuguese, English and Spanish. Always seeking growth, in 2016, Larissa became a Fellow of the American Association of Dental Office Management (AADOM).
"Great service in pediatric dentistry is making the patient and parent feel at ease. The fear of the unknown can be overwhelming at times, so being able to be part of that one link between a healthy mouth and a fun experience is priceless." – Larissa
Alexandra – Hygienist
Alex is an award winning hygienist with a calming spirit. Alex earned her associates degree in dental hygiene from Bergen Community College and continued her studies at Montclair State University where she received her bachelor's degree in Women's Studies. With over ten years of experience in the dental field, Alex is a seasoned bilingual professional who loves to make children smile.
"Working in pediatric dentistry is my passion. Caring for children by providing outstanding dental care is so fulfilling, especially when you're able to work in such a cheerful environment as Jersey City Pediatric Dentistry. With my bubbly personality and gentle touch – I am able to bring smiles out of children and establish a special and long lasting relationship." – Alex
Marisela – Patient Care Coordinator
Marisela is the heart of our practice. She is friendly, helpful and very patient. Her smile will be the first thing you'll hear when she answers your call and the last thing you'll see as she thanks you for coming in.
"Working with children brings out my inner child! I like to develop that trust and comfort with the parents. It is very rewarding to see parents happy with their decision to bring their child into our office. That's what brings a smile to my face…when I make a difference in not only the child's life but the parent's as well!" – Mari
 Edineth – Certified Dental Assistant (Lead)
Eddy is thoughtful and tenacious. We were fortunate to hire her the moment she finished dental assisting school. Over the years, her achievements have earned her the title of Lead Assistant. She brings tremendous energy and focus in running our top notch sterilization center while making sure our patients are comfortable. She now teaches our hygiene assistants how to keep our office safe, sterile and exceeding OSHA, CDC and ADA benchmarks.
"As a dental assistant, I know I'll have a lifetime to work but children are only young once. It's those visits, as a child, that make a difference and I love being one of the faces and smiles that make children feel comfortable walking through the door each and every time.." – Eddy